Fall really is my favorite season of the year- it's one of the main reasons I wanted to get married in October. The return of college football and Starbucks favorites are just the icing on the cake for me. I love leaving the house every morning and feeling that change is in the air. Knowing the hot, humid days of summer are finally leaving us and that the first cold front is just around the corner made this Monday morning a little more bareable. In the midst of waiting for fall, I've been drooling over the fall outfits I've spotted at Anthro & Tulle. I snatched up this beauty while window shopping the other day (bad, I know):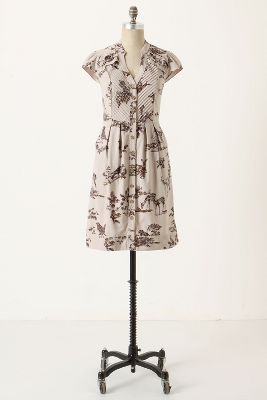 It's hard to tell from the online picture, but there are hints of purple and teal in the dress. I can't wait to pair it with a cute belt and some colorful tights!
I recently discovered Boden and ordered
this
and
this
(which they're unfortunately out of at the moment). Free shipping + coupons + ebates made online ordering worth it! I'm patiently waiting for these two skirts to show up in my mailbox and I'm hoping they'll fit :) In the mean time I'm searching for some fun tights to pair with them. I stumbled across these tights on Anna Maria's
blog
(and preview of her newest fabric, Innocent Crush!!):
They're Anthro, but have apparently sold out. (Fingers and toes are crossed that something similar shows up somewhere on the interwebs).
In the mean time, I hope to be putting out some fall decorations, switching out my summer wardrobe with my winter sweaters, making a list of soups and stews to whip up when it finally gets cooler and sipping on hot coffee, tea, and cocoa. How are you preparing for the change in seasons?